Mild Winters Mean More Ant Problems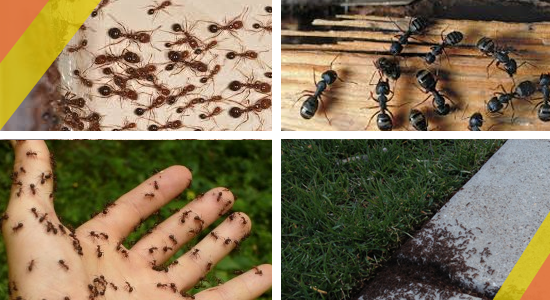 If you're an ant, then a mild winter means that you can get a head start in the spring. The lack of freezing cold temperatures allows the ant to become more active sooner in the year, meaning more unwanted ant activity for your home and/or business this coming season. Commercial pest control in Niagara has experienced a rise in the prevalence of the carpenter ant in the recent past, and this poses a serious threat to the structural integrity of Canada's authentically crafted wooden buildings and local heritage. Lucky for you, Truly Nolen, Canada's pest control experts, have the perfect Four Season Pest Program to take care of your ant problems for good.
Inspect and Identify
Carpenter ants, like termites, make their home from rotting or decaying wood, both indoors and outdoors, causing serious structural damage wherever they decide to take up residence. Your Truly Nolen pest control expert begins the control procedure by first examining the property, inside and out, to establish some identification of the source of the ant problem. This includes any areas displaying favourable conditions, such as an excess moisture build-up or rotting wood in the building. To gain full control over the situation, a full extermination is needed of all the nests in and around the area.
Determine Course of Action
Our pest control experts will determine the right course of action to be taken when dealing with an infestation of this kind. Carpenter ants can be highly destructive and not something that you want to take a chance with. Truly Nolen will develop a customized extermination plan, tailored for your individual needs, and ensuring that you are effectively protected from these little pests. By treating both the interior and exterior of your building, as well as the foundation, ants are prevented from ever entering your home in the first place. The extent of control technologies that are employed by Truly Nolen allows for the exchange of insecticide through normal contact and food transfer, effectively eliminating the colony from the inside. Additionally, these control technologies are effective at multiple pest control points at no additional fee.
Control and Prevention
Carpenter ants, in particular, can be rather difficult to control effectively, often requiring multiple treatment techniques, methods, and services to ensure success. Seeking a professional commercial pest control expert in the Niagara area will greatly help you take control of your ant problems, proving a long-lasting and effective solution. Along with other expert advice and recommendations, Truly Nolen pest control experts will help you to rid your property of any potential ant attractions that may just be lying around.
A carpenter ant infestation is something that needs to be taken seriously, and done right. Truly Nolen has the necessary training, equipment, and expertise to make sure that your ant infestation problems are taken care of 100%, and not something that you are going to have to worry about again any time soon. Truly Nolen's Four Season approach will have you covered all year round.
---